The Proptee Public Product Roadmap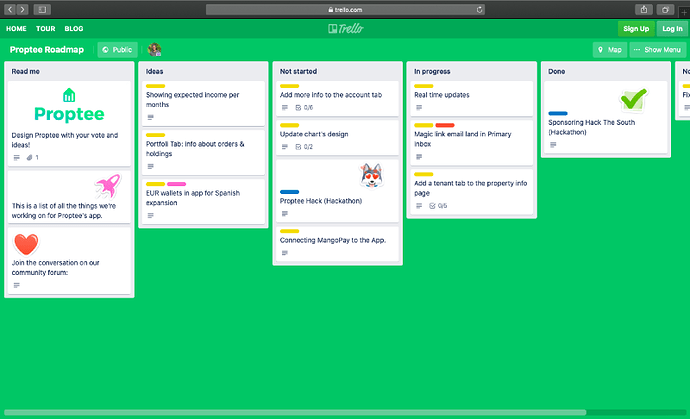 At Proptee, we believe that as a company, we do better if we share everything with our community and gather feedback during every phase of the development process.
We think that no matter what type of business you're in, having set goals and objectives written down massively increases your chances of success.
Following our own intuition and getting inspired by companies like Trello or Monzo, we have decided to put together an overview of our product roadmap on a public Trello board.
Please take a look and let us know what you think on the forum. We encourage you to vote on features in Trello as the vote counts will be taken into account when deciding what to build next.
We'll do our best to keep the Trello board updated and notify you about any new killer features that are coming up. We'll share the important new cards on our Twitter, so please don't forget to follow us there.
You can read our entire blog post here!


We know the roadmap can be a bit confusing, as you haven't seen our app yet. We'll start Alpha testing very soon and everything will make sense.